CONGRATULATIONS TO THE CHAMPIONS OF THE JAKARTA STATE POLYTECHNIC ICT DEPARTMENT AT KMIPN V, 2023
Mon Aug 07 2023 21:30:01 GMT+0700 (Western Indonesia Time)
tik.pnj.ac.id
Lively applause resounded from every corner of the campus, accompanied by cheers from the Department of Informatics, State Polytechnic of Jakarta! 🎉👏
We extend our countless congratulations to the extraordinary winners of the 2023 V National Polytechnic Informatics Student Competition (KMIPN). The achievements you have achieved are clear evidence of your dedication, hard work, and brilliance in facing challenges in the world of information technology.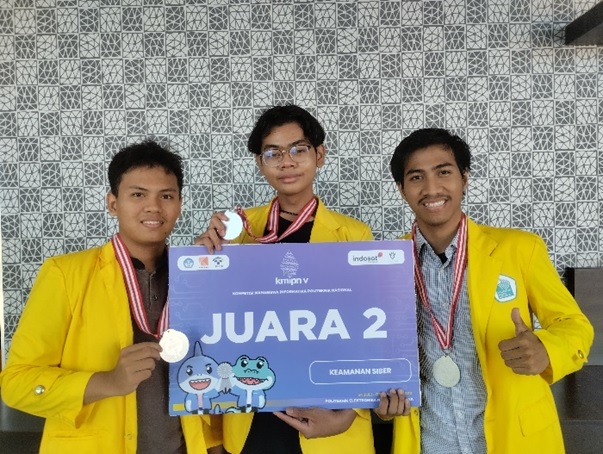 Team : 05-Council, Category: Cybersecurity
Azzuri Putra Mahendra, TMJ 2B; Pratama Varian Andika Parulian Siregar, TMJ 2B; Sandika Arga Pamungkas, TMJ 4
2nd place in the Cyber Security category, the 05-council team has proven that your intelligence and expertise can protect the digital world from lurking threats. Teamwork and deep understanding in the field of cyber security have brought you to the title of champion. Congratulations on this resounding success, the 05-council team!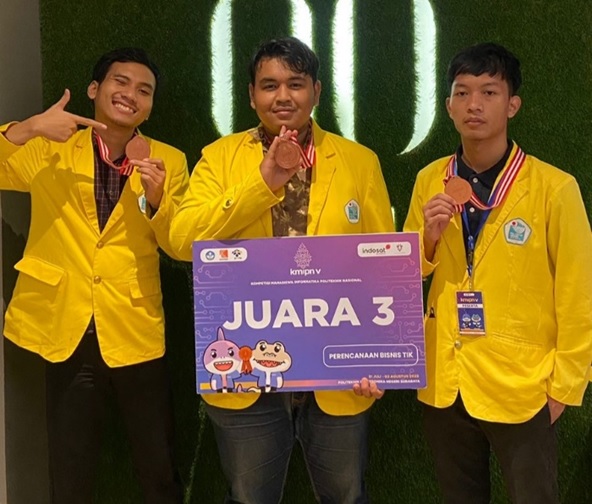 Team : Inspektur Bisnis, Category: ICT Field Business Design
Harianda Surbakti, TI CCIT 6; Abdurojak, TI CCIT 6; Davi Rama Fadillah, TI CCIT 6
3rd place in the ICT Business Planning category, the Business Inspector team has described how information technology can provide added value in a strong business strategy. A mature plan and a clear vision will lead you to reach this pinnacle of achievement. Congratulations, Business Inspector, on a well-deserved award!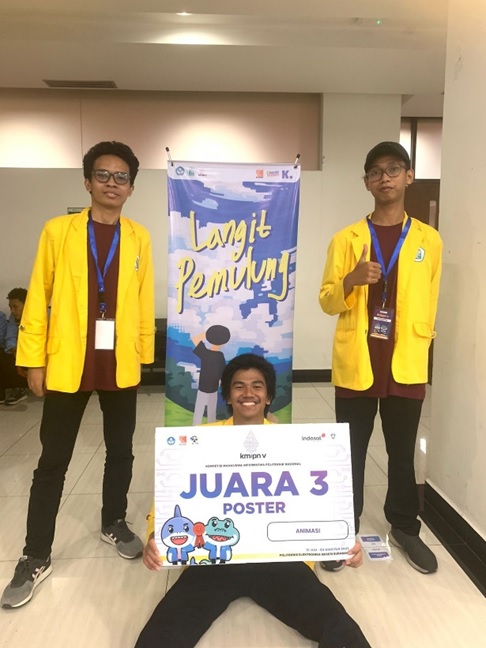 Team : K.A.N.S.P.I.R, Category : Animation
Geral Azhari, TMD 4B; Arya Satria Bimawan, TMD 4B; Muhammad Akmal Aziz, TMD 4B
And for the Animation category, the K.A.N.S.P.I.R team won 3rd place as Best Poster, having turned imagination and creativity into a dazzling visual movement. In a world full of color and imagery, you have proven that detail and artistic touch can touch the soul. Congratulations, K.A.N.S.P.I.R, on this great animation feat!
Not only the winners, we would also like to express our sincere appreciation to all finalists from the Jakarta State Polytechnic Informatics Engineering Department who have fought with passion and determination in the 2023 V National Polytechnic Informatics Student Competition (KMIPN).
You have shown courage and dedication in the face of tough competition, and have inspired us all with your accomplishments and hard work. Your every step is clear evidence that your capabilities and potential in the world of information technology continue to develop under the auspices of the Department of Informatics, State Polytechnic of Jakarta.
Even though maybe not all of them won the title, your courage to compete and give your best is a victory within yourself. We hope that you will remain enthusiastic and continue to hone your talents and skills to face the challenges in the future.
Keep walking on the path of success, with enthusiasm that never fades. Congratulations once again to the 05-council team, the Business Inspector, and K.A.N.S.P.I.R for their glorious victory at KMIPN V 2023! 🏆🌟